Leadership
Pastor Andy & Deb Bollant
, Lead Pastor
Pastor Andy Bollant was raised in Winona, MN. He attended his first year of college at Winona State University. While attending a retreat with FCA, he felt the Lord calling him to attend Bible college. The following year he attended Christ for the Nations in Dallas, TX where he received an A.A. in Theology. From there he attended Trinity Bible College in North Dakota and finished his degree in Bible and Ministerial.
As a 24 year old he Pastored his first congregation in Clear Lake, WI, where he enjoyed being for 9 years. He met his wife Deb there and was married in 1992. Their son Luke was born in 1994, and in 1995 they moved in Siren, WI and pastored the Assembly of God Church there for the past 21 years. Their son Luke and Daughter-in-law Katelyn live in Minneapolis area where Luke is a salesman for a Software company and Katelyn is an RN.
Pastor Andy enjoys hunting, fishing, golf, softball, basketball, coaching and refereeing. He has a heart for people and ministry and loves helping people discover their gifts, talents and callings from the Lord.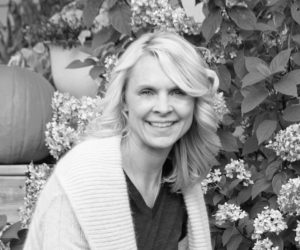 Jenny Lois – Office Manager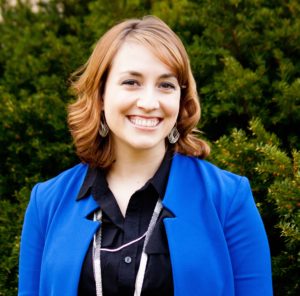 Janelle Prince – Worship Leader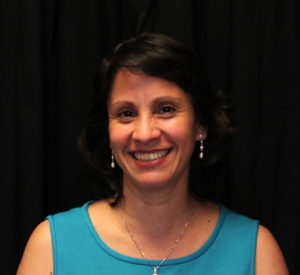 Eneida Morales – Hispanic Ministry
Worship Services:
Adult Bible Study @ 6pm, Pastor Andy

Kingdom Kids – Dinner at 5pm, Class at 6pm.

Oct 29, 2017

Dave Reilly The account of Eldad and Medad Oct. 29

Oct 15, 2017

Pastor Andy – Gods House – Installation Sunday 10-15-17

Oct 8, 2017

Pastor Andy – How Can We Overcome Evil— 10-8-17

Oct 1, 2017

Pastor Andy – The Six Pillars of a Healthy Church 10-1-17

Sep 24, 2017

Dave Reilly – You Must Be Born Again 9-24-17

Sep 17, 2017

Pastor Andy – Are You Ready (End Times) 9-17-17

Sep 10, 2017

Pastor Andy – Ephesians 4:15-25

Sep 3, 2017

Pastor Andy – Ephesians 4 11-16

Aug 27, 2017

How Powerful is the Word of God

Aug 20, 2017

Pastor Andy – Jesus Died to Save every Part of You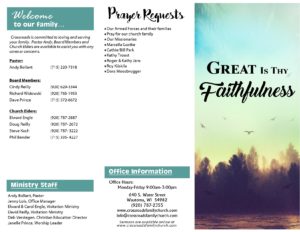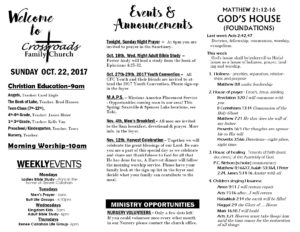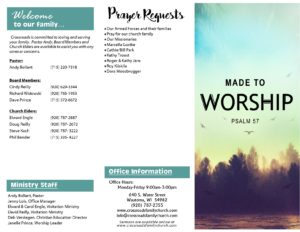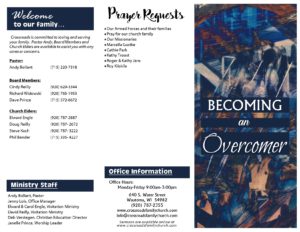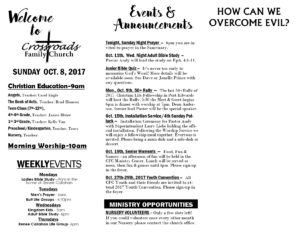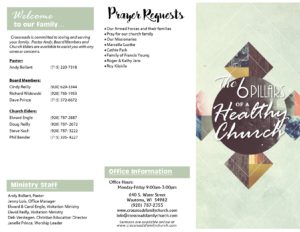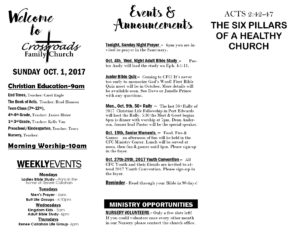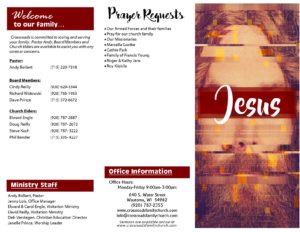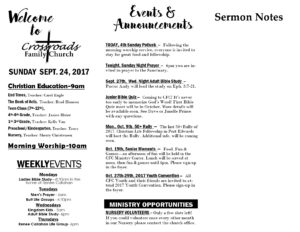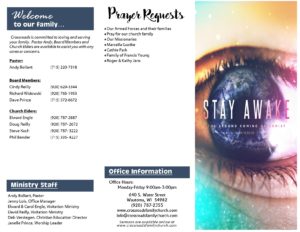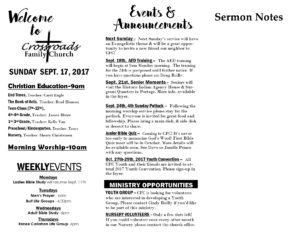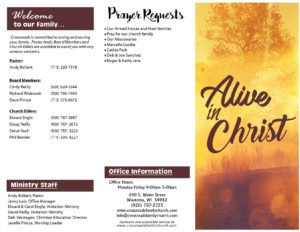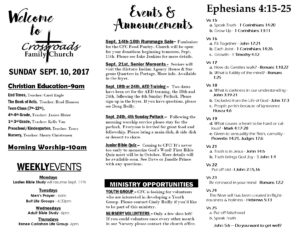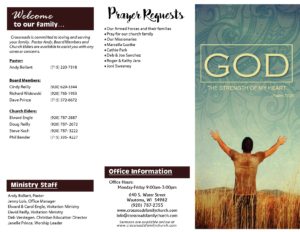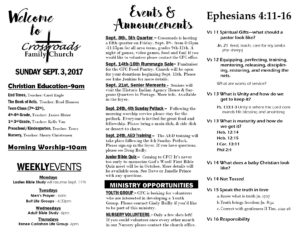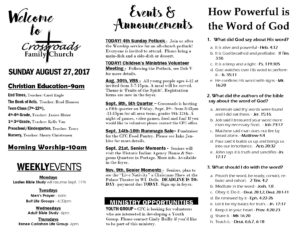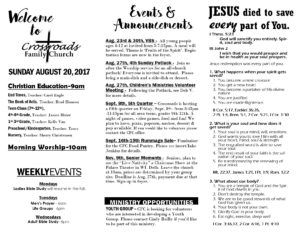 Ben & Lynn Bult – Tuesday 6:30-8pm
281 Lake Ave., Montello
Lynn cell# 920-428-2137
Wed. Night Study – Wednesday 6-7pm
Crossroads Family Church with Pastor Andy/Mark Hefter

Office Hours



Office Hours: Monday-Friday from 9 am to 3 pm.
Church Location & Address: 640 S. Water St. Wautoma, WI 54982 (map)
Telephone: (920) 787-2355

Email: info@crossroadsfamilychurch.com
Email Us